Burlesque performers know it very well how important to develop a character or persona when you're performing on stage. Finding self-confidence and enhancing your audience, it's not always easy, especially when you're new in this business. The good news is, you can imitate famous women or somebody you ever wished to be. Do a little research and think outside the box.
Think about how you want the audience to feel when they are watching you. Be whatever you want to be and create a character. When you walk into the club, put on your invisible mask and forget the regular 'you' and become whatever your dancer persona is. If you think about a mask, its purpose in theatres was to conceal emotions and to help the actors portray different feelings. Just like them, you can adopt a different attitude to entertain and impress your audience. You can play with costumes and accessories.
Develop a dancer persona, act and have fun.
Make them believe that you belong to the stage, and you were born for this job. It's like a big theatre, but you can't rely on just a costume, give yourself an alter-ego. Just think of your shift as a night out, don't try to sell hard, dance, flirt and feel good and try to make them feel special. Talk to the customer like you would talk to your friends, act like you're partying rather than working. Be witty, flirty, chatty, smart, kind, optimistic and smiley. Trust me. Your mood is the key; being positive and bubbly attracts people. The money will come automatically.
For creating a character, you need to think about the following questions:
What is my character, and what does she do?
What moves and gestures does she do?
what costumes would she wear? How does she take her clothes off?
How does she interact with the audience?
Is she powerful and wild or cute and playful?
How does she make the customers feel?
Does she make the audience love her or hate her? Do they laugh on her, or are they shocked?
Let your imagination run wild! Be creative!
If you don't know how you want to portray your character, here are some ideas: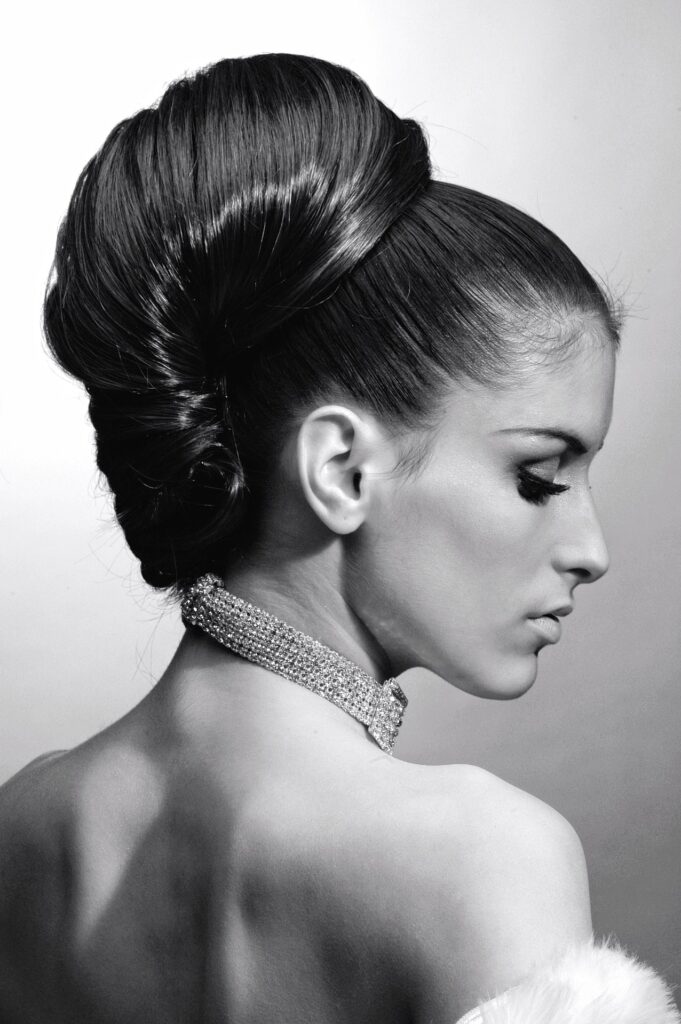 The Diva. The Femme Fatale. Elegant and glamorous, the classic Dita von Teese or Jessica Rabbit look.
Her coldness challenges the customers. A French roll or a tight bun is a perfect, elegant hairstyle for this character. You can either wear a long velvet evening gown with Gloves. or black lace lingerie set with suspender belt and lacey hold-ups, don't forget to add some pearls and bling-bling. Lots of Pearls. Bling blings..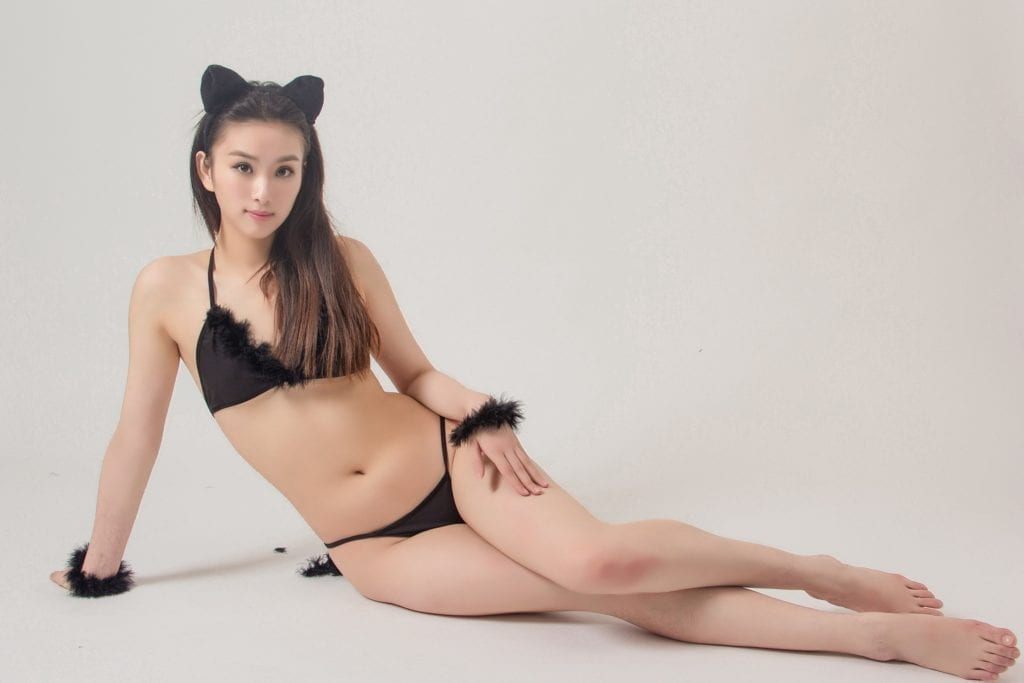 The Kitty Cat. Do you remember Halle Berry's look in the Catwoman movie? Meow! You can wear a leather catsuit or animal printed dresses but don't forget the cat's eye or smokey eye make-up. Tie your hair up in a ponytail or messy bun.
You can be a submissive kitty cat with a choker and cat ear hairband.
Sit on your customer lap and act like a cat: purr when he treats you right and show your claws if he misbehaves.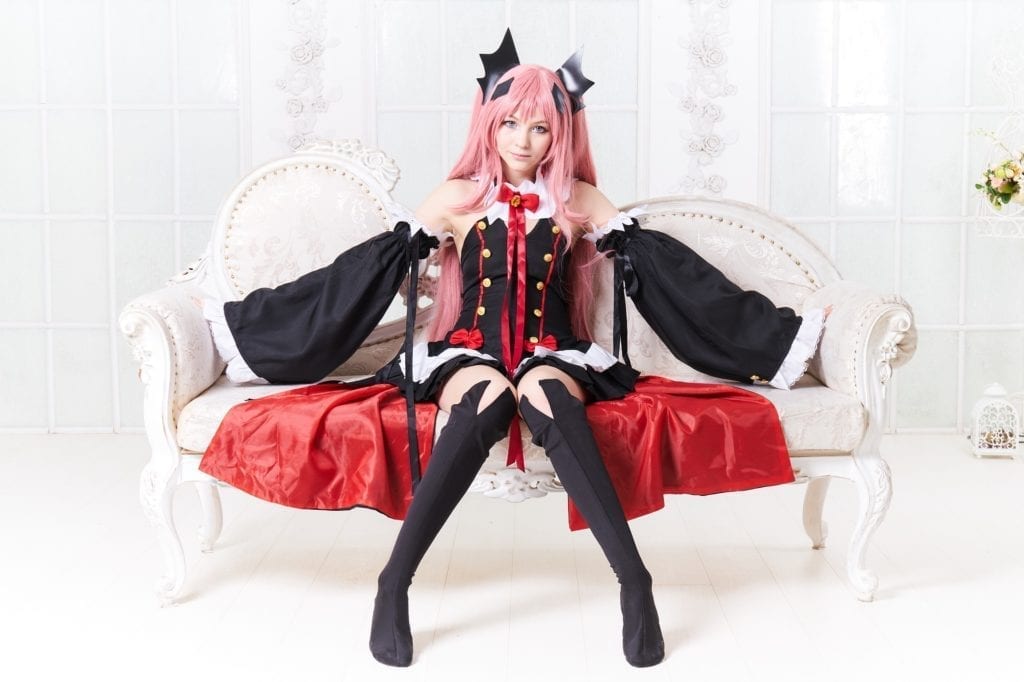 The Baby Face. Pink or purple hair and high socks paired with something extra frilly.
Space buns and glasses are just perfect. Think about Salma Hayek's dance in the movie Dogma. Be innocent and sweet like a Japanese anime girl, a real cutie pie who melts the hearts with her cuddly, playful nature. This character suits you when you're young and cheeky. The schoolgirl type who often nod and say 'Teach me, daddy'.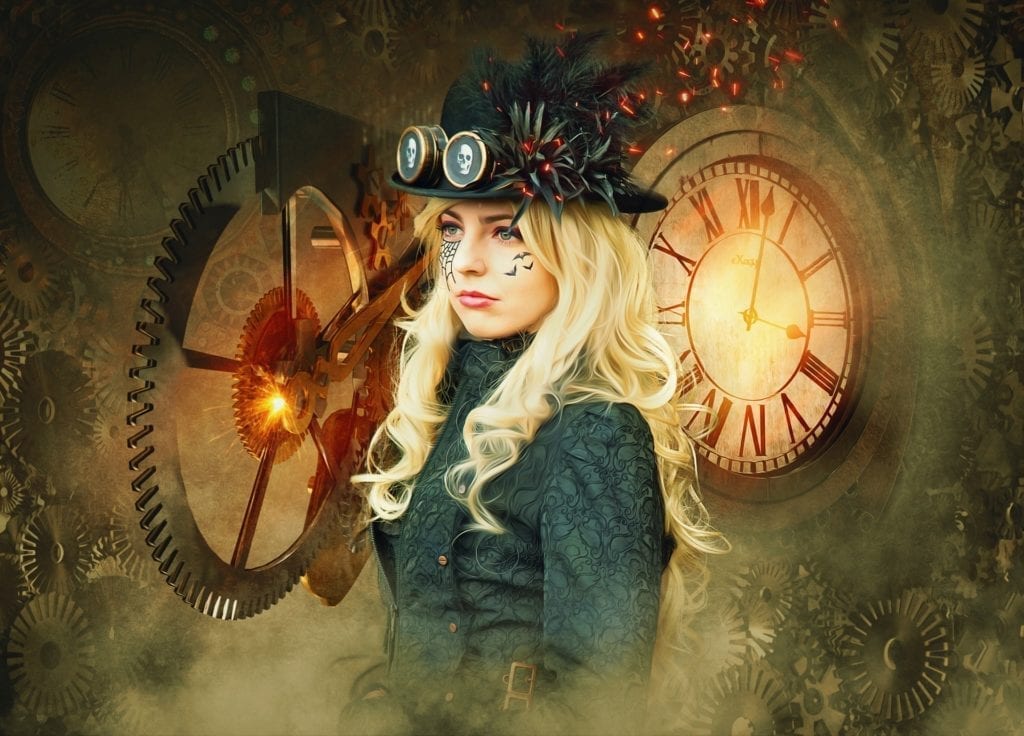 The Gothic Witch.
The punk or Steampunk alternative look with necessary fishnets and corsets Pale skin and dark make-up, a white hair wig can be optional. The uninhibited witch who puts magic spells on her customers — beautiful but deadly creature of the night. She never asks or smile, only demands customers to buy her a drink. You can play with your Morticia Addams look, and you can dress up like every day is Halloween. If you need some steampunk inspiration, watch the movie Wild Wild West.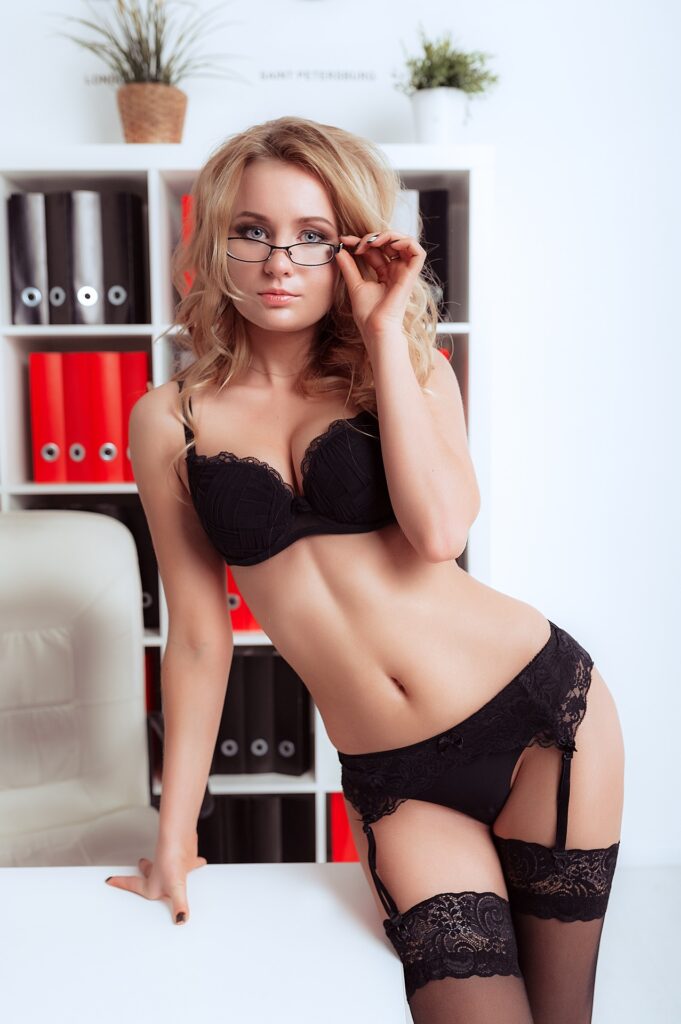 Ms Intelligent.
Play the sexy secretary/teacher type with glasses . That gives you plenty of opportunities to joke with customers. Make a natural and silly approach: Have you done your homework? If he wears glasses, you can swap them; it's always funny. And don't forget, many guys have secret fantasies with this type, there is a reason behind all the popular office scenarios in porn.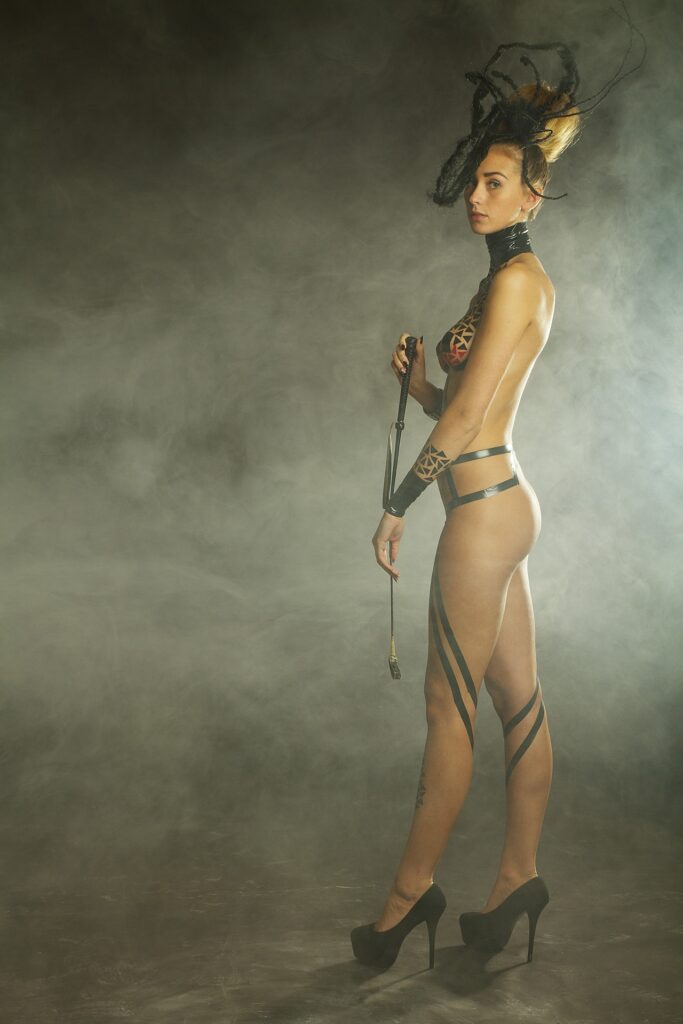 The Dominatrix. you need a riding crop or a whip to walk around on the floor. Latex and leather.
And high knee boots. This is a strong character, a face-slapping, demanding, powerful woman. Maybe some guys would feel intimidated by your look, but these are not your customers. You go for the ones with secret desires. They pay well when they find an understanding, dominant, kinky woman.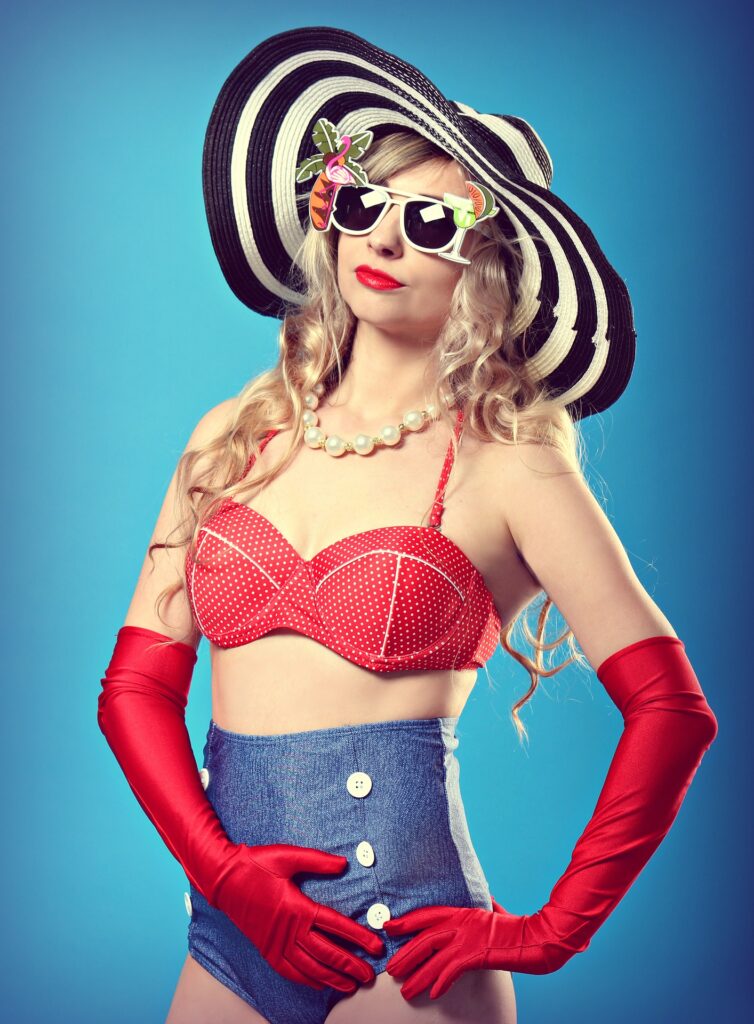 The Pin-Up. Winged eyeliner is a must to create this glamorous look, but getting the make-up flawless takes time and practice. Wear colourful and polka dot clothes. You can choose a thick bandana headband or scarf for the retro look. The baby hair bow is charming. Just add a little bit of cuteness for the boring everyday hairstyle. Red lipstick and suspender belt is a must for the perfect look — fun and carefree character, like Betty Boo.
You can even create a mood board collecting pictures of models, clothes, costumes, props and accessories, the style that represents the chosen character and arrange them in a composition. You can even put up there quotes or text that you'd like to say to customers. The mood board would help you to get into your character and mood for work.
Play with your look and dare to be different from the rest of the girls. When you work with cheerful, careless young girls, show that you're an elegant, intelligent woman. When most of the girls wear black lace lingerie, add more colours to your appearance. It's fun to be different, and it helps customers notice you faster.
Have fun!
B. Lindsay Belan